Aluminium Bi-Fold Doors Lincoln and Nottingham
10th August 2016 Comments
Quality Aluminium Bi-Fold Doors in Lincoln and Nottingham
When the weather is glorious, there is nothing better than opening up your Lincoln or Nottingham home to the outdoors. We offer a range of high quality, luxurious aluminium bi-fold doors that will expand your living space by uniting your garden and home, giving you a truly wonderful experience.
These exceptional sliding doors offer advanced performance and incredible standards of manufacture that you just won't find anywhere else. They use cutting edge technology and innovative design combined with exceptional materials to create a beautiful and yet robust double glazed bi-fold door.
You will really appreciate the lifestyle enhancement that our bi-fold doors bring to your home. Aesthetically pleasing, they will add character and style while still meeting our highest standards of functionality.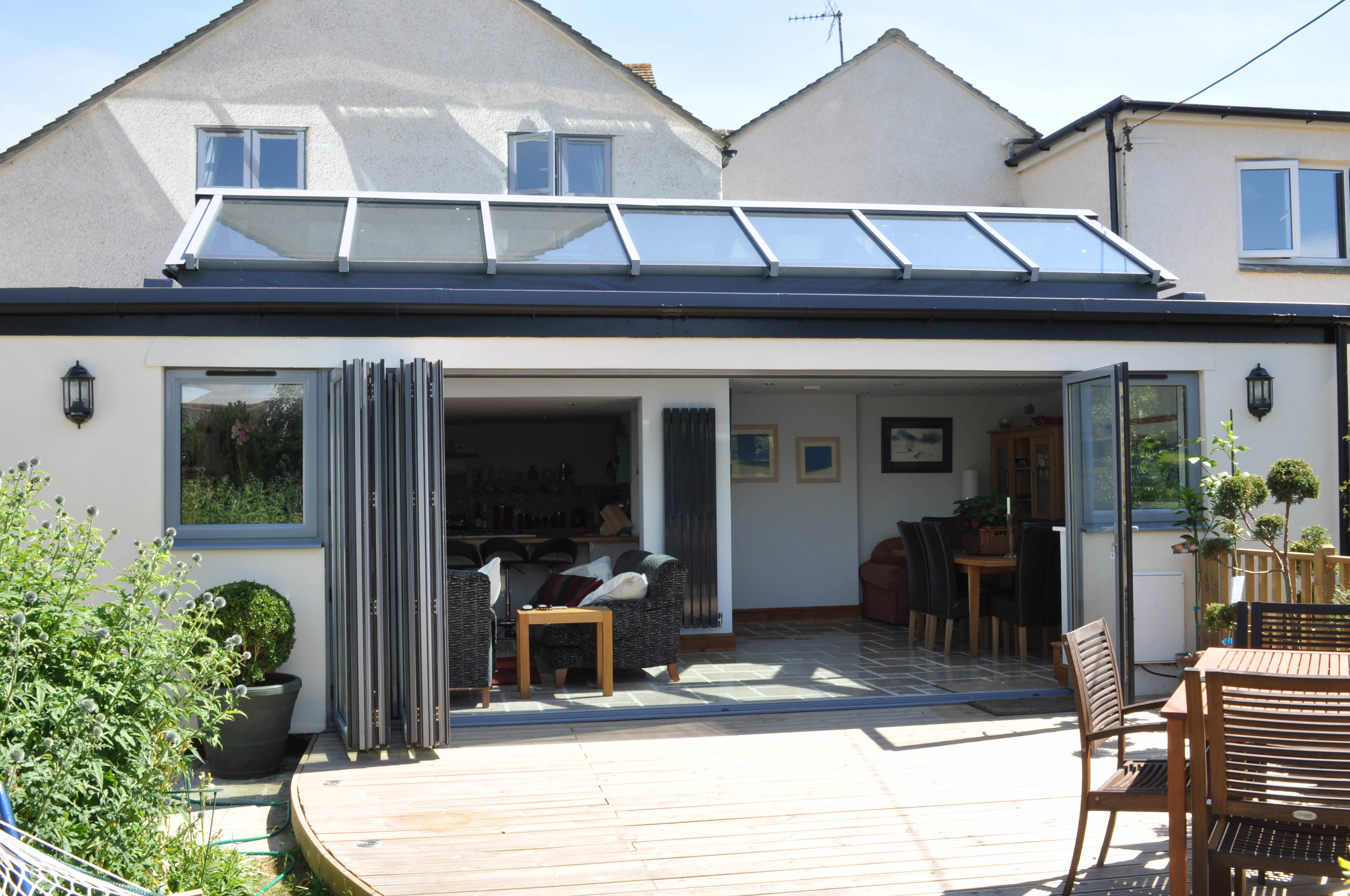 Stunning Design
There is nothing quite like a bi-fold door for adding the wow factor to your Lincoln and Nottingham home. They add something special with their stunning design, while still being practical and functional.
The beauty of the bi-folding door is that it operates in a sliding concertina motion, meaning that it takes up less space in your home and at the same time, gives you a wider opening into your outside space.
They offer superb accessibility to your home, you can choose from a variety of low threshold options that are so sturdy, they will support every day wheelchair access. We also offer an impressive sash width of 1200mm, meaning that your new aluminium bi-fold doors can be customised to suit the space that you have.
Aluminium makes the perfect material for these incredible designs as it offers a sturdy, structurally sound and exceptionally strong profile. Your new aluminium bi-fold doors will never rot, warp or become unhinged.
Our multi-purpose bi-folds can also be incorporated into your new conservatory design, creating a simply superb entrance.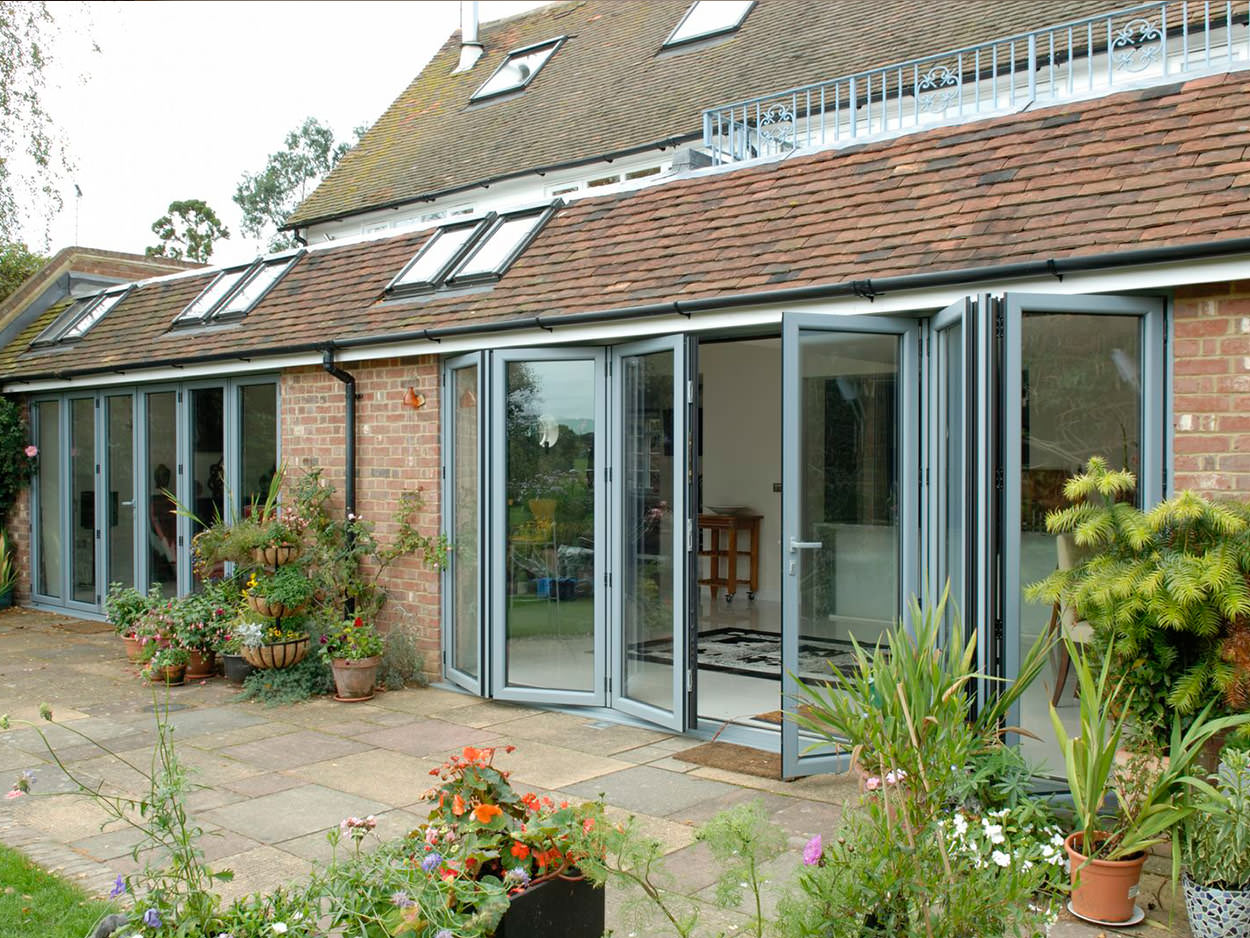 Unique Profile
The unique profile for our state of the art aluminium bi-fold doors comes from the Smarts Visofold 1000 range.  This outstanding profile from Smarts aluminium systems gives you an almost endless variety of options that you can choose from for your new aluminium bi-folding doors in Lincoln and Nottingham.
Whatever space you have you can choose different fold configurations from left to right or vice versa, so that you get the opening that suits your home. These stunning bi-fold doors also have an attractive slim line framework, available with either square or rounded edges, giving you more options for customising your final look.
They are provided with a fully fitted secure locking mechanism that has a domestic style 'lift up' handle for ease of access.
Our aluminium bi-fold doors are multi-purpose, so you can not only have them installed in your home, they are also suitable for commercial projects in Lincoln and
Nottingham.

Thermally Efficient
One of the most wonderful benefits of our aluminium bi-fold doors is that they provide excellent thermal insulation. This is due to their innovative design which incorporates the latest technology when it comes to double glazed door design. They are thermally broken which means that due to the cutting edge manufacture and highly advanced technology, they will not allow heat to be lost through the frame. Coupled with our high quality double glazing, this feature ensures that your home is kept much warmer for longer.
This exceptional thermal efficiency means that your heating bills will be reduced. The warmth generated by your central heating is locked inside by these incredible aluminium profiles. Added to this is the comfort of knowing your new aluminium bi-fold doors will help minimise your family's impact on the environment, a very important concern for the modern homeowner.
Aluminium Bi-Fold Door Prices in Lincoln and Nottingham
Our outstanding range of aluminium bi-fold doors come at a very cost effective price. Your home will be enhanced not only by their beauty, but also by their functionality. Designed to last the test of time, these impressive sliding doors will give you year after year of high quality performance, adding to the value they provide. They could also enhance the value of your property.
Should you wish to find out more about our wonderful aluminium bi-folding doors, start your quote! We also have a friendly and expert team waiting to hear from you, so please get in touch today. They can guide you through the options available and help you to decide which style and colour is right for your home. They can also give you a free, no obligation quote that is tailored to your specifications, so give them a call now!