Double Glazing Nottingham
29th January 2016 Comments
High Quality Double Glazing in Nottingham

Are you looking for superior double glazing in the Nottingham area, that is secure and cost-effective? You can put your mind at ease with beautiful double glazing from Starglaze, that will complement all kinds of properties!
Whether you're looking for double glazed windows, such as Casement Windows or Tilt and Turn  Windows; or double glazed doors like French Doors or Patio Doors – we have perfect double glazing for a range of products, that will suit all kinds of Nottingham properties!
View our superb selection of double glazed products today, and get an instant online quote for a competitive double glazing price!
Double Glazing Window Styles
Here at Starglaze we offer a comprehensive choice of double glazed windows – there's a perfect window choice for everyone!
Take a look at our beautiful range of double glazed Casement Windows, a fantastic choice that suit all kinds of Nottingham property.
Manufactured with the Deceuninck 2800 series profile system, our double glazed windows achieve superb thermal insulation and fantastic protection against harsh weather conditions.
Available in a range of colours and styles, our double glazed Casement Windows are a firm favourite with our Nottingham customers, and we believe we can find the perfect double glazing at the right price for you too!
Our fantastic double glazed Tilt and Turn Windows are great if you're looking for excellent ventilation, that will still keep you family safe and secure.

Available in 250 RAL colour choices, our Tilt and Turn Windows offer double weather seals alongside a multi-chambered Deceuninck profile – in short, your windows will be completely weather-proof and thermally-efficient!
Double glazed Tilt and Turn Windows from Starglaze qualify as fire-escapes, plus they're so simple to clean. With the ability to open and close them from the inside and out, you can safely clean your windows, even if you live in a high-rise apartment!
For a Nottingham property with traditional aesthetics, our double glazed Vertical Sliding Sash Windows are perfect. They combine all the beauty of classic windows, with the security and thermal efficiency of 21st century uPVC, giving you the best of both worlds!
Using a market-leading profile by Spectus, our Vertical Sliding Sash Windows use a combination of authenticity and a classic finish to create a beautiful aesthetic. They feature an Ovolo detail, as well as a deep bottom rail option!
Detail is key with any double glazing product, and our Vertical Sliding Sash Windows are no exception!

Designed to replicate high-end timber detailing, our Residence 9 windows are a beautiful imitation of traditional flush-sash hardwood windows. Certainly a luxury uPVC window option, they share all the beauty of traditional style windows, but with more contemporary security measures.
With a range of bespoke colours and a seamless weld, you can achieve a very high-quality aesthetic, while maintaining a low maintenance option.
They are highly customisable, and can be combined with a range of double glazing accessories, such as Monkey Tail and Pear Drop handles in a choice of colours.
Double Glazing Doors Styles
Looking for double glazed doors? Fantastic! We've got a superb range for you.

The entrance of your home is vital when making a great first impression. This is why here at Starglaze we are passionate about finding the perfect double glazed door to complement your Nottingham home, with a wide range of RAL colours and styles to choose from! These come with a 10 year guarantee against discoloration, giving you peace of mind when purchasing your new door.
Using Deceuninck residential doors that are famous for combining a beautiful aesthetic with contemporary uPVC technology, we can guarantee your family safety in their Nottingham home.
With slim sight-lines for a beautiful aesthetic and the option of additional hinge protection bolts for extra security, our double glazed doors will give your home a classic feel, while adding guaranteed value to your property. You really can't go wrong with our double glazed Residential Doors!

For great insulation, choose one of our double glazed Stable Doors! With the option of opening the two sashes separately or as one, you can bring excellent ventilation into your Nottingham home, with no compromise on security or thermal insulation!
With double weather seals, you can be rest assured that your double glazed Stable Door will keep your home safe from the harsh weather effects of Mother Nature. We all know the British weather can be unpredictable, which is why here at Starglaze we believe it's so important to take extra weather-proofing measures.
We have an extensive range of stylish glass options and designs – there's a Stable Door to suit everyone! Choose Starglaze today for a beautiful double glazing style Stable Door to suit your Nottingham property!
Choose our stunning double glazed uPVC French Doors to add a continental feel to your Nottingham or Lincoln home. Whether you use them as internal or external doors, we have the perfect selection to enhance the personality of your home.
With 28mm Kitemarked tough sealed units and superb weather seals, our fantastic double glazed French doors from Deceuninck will keep your home warm and protected from the cold British weather outside.
Our double glazed French Doors have fantastic security locking systems, and with the optional upgrade of Secured by Design claw locks and laminated glass your family will be safe inside your Nottingham home.

For a fantastic alternative to Bi-Fold Doors, our double glazed Swing and Slide doors are superb! Featuring a ground breaking design, they combine a beautiful stream-lined appearance with the convenience of being able to open any part of the door.
Fantastic for opening up space, our double glazed Swing and Slide Doors feature exclusive Magnaline hardware, and are available in a fantastic range of RAL colours and woodgrain foils. We can even offer you an in-house paint spraying facility, for the perfect colour-match for your Nottingham home!
Kitemark accredited with fantastic high-security locking systems available on request, you will be safe and sound behind our double glazed Swing and Slide Doors, which will add a beautiful statement to your home as well as keeping your family safe and secure.
Open up your home with our superb double glazed Patio Doors! Designed to effortlessly slide to one side, they act as a beautiful room divider that won't encroach on your precious space.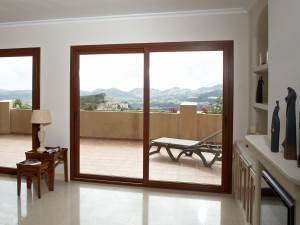 Their streamlined appearance will add sophistication and charm to your Nottingham property, and you can be rest assured that they are incredibly secure, with a multi-point locking system that is Secured by Design accredited. They also feature toughened glass and hook latches for that extra peace of mind.
We use a Spectus chamfered profile with our double glazing style Patio Doors, and are available in 2, 3 or 4 leaves. This adds fantastic versatility, and we can tailor them to your exact specifications. Choose beautiful double glazed Patio Doors from Starglaze today – you won't be disappointed!
Check out our other products!
We have a range of other products such as Composite Doors, and R9 Doors , plus additional double glazing accessories for your Nottingham property today!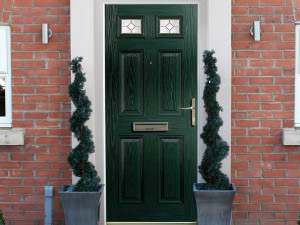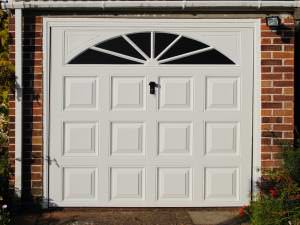 Contact us for more information on our fantastic double glazing in Nottingham and Lincolnshire, or get your online double glazing price with our no obligation, instant online quote engine today!