What is Toughened Glass?
24th September 2019
Toughened glass – what is it?
Toughened glass, sometimes referred to as "tempered" or "safety glass" is very simply a stronger version of the standard glass that is used in most windows around the home and is used in areas where greater strength or safety is needed, for example in doors, windows near doors or windows at low level.
Why do we need toughened glass?
Do you have any windows and doors in your home that you may come into contact with if you tripped and tried to use the glass to stop yourself falling? Then you might need toughened glass in those locations.
Standard glass, sometimes referred to as annealed or float glass, breaks into large, sharp pieces with jagged edges. This presents a serious risk of injury if you were to fall against it. To reduce this risk, we put the standard glass through a toughening process. This process changes the structure of the glass so that if it breaks it shatters into lots of small pieces. These small pieces are about the size of your finger nail, and is better than a few large sharp pieces. You can see the comparison between toughened glass and standard, float glass, when they break below.
Therefore, it becomes much safer to use in doors, low windows or frames next to doors. In the unlikely event that someone trips in one of these locations and their hands, arms or body come into contact with the glass then if it breaks, it will break safely. The toughened glass will shatter into lots of small pieces and is far less likely to cause any serious damage.
It is critical to ensure that when you are replacing your windows and doors around your home that you insist on toughened glass in these locations. All good double-glazing Companies should advise you of this requirement during the quoting stage.
The Glass and Glazing Federation, of which Starglaze are founding members, publishes a handy leaflet on the requirements of toughened glass. If you would like us to email you a digital copy of the guide, please get in touch and we shall happily forward you one.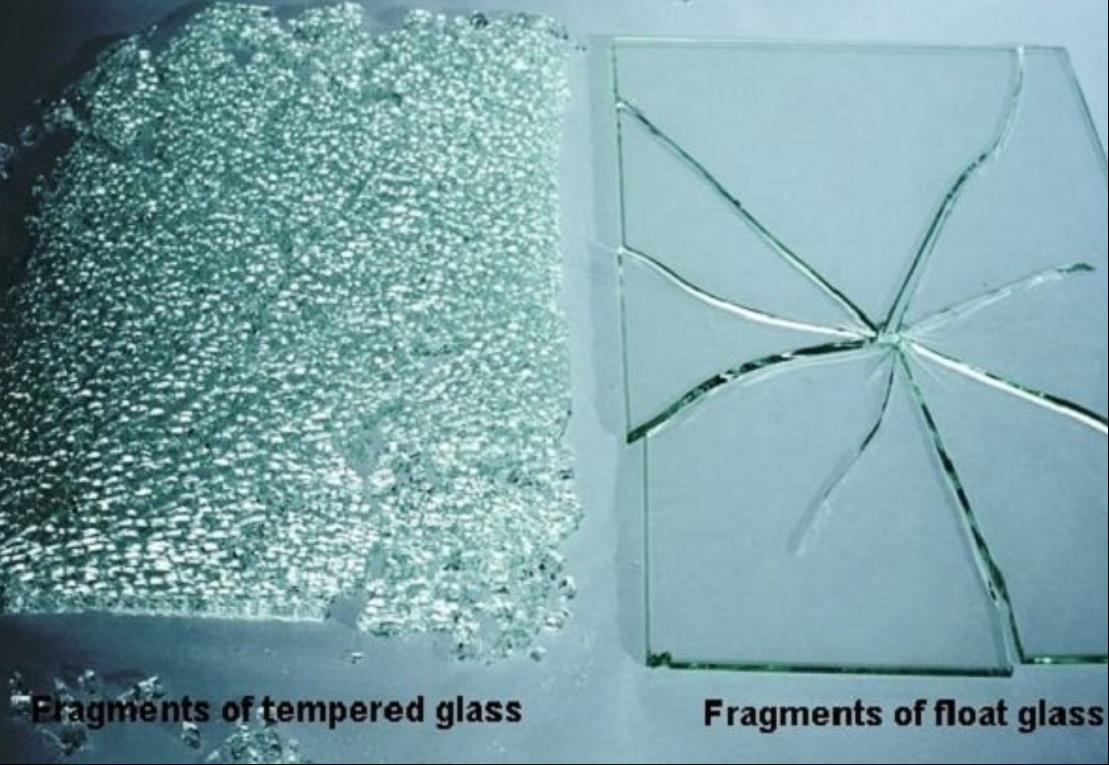 How is toughened glass made?
The most common way to toughen the glass is by tempering it. This involves polishing the outer edges of the glass to remove any small ridges, indents or imperfections. The glass on a bed of rollers which carry the glass into a furnace. The temperatures in the furnace vary depending on the type of glass being toughened but are typically around 650 degrees. The glass remains in the furnace, oscillating on the rollers for a prescribed period of time. Basically until it reaches the required temperature. However, the length of time depends on the type of glass and also the ambient external temperature. The colder it is outside, the longer the glass stays in the furnace.
Once it is up to temperature the rollers push the glass out the furnace. Jets of air then rapidly cool the glass as they are blown onto the surface top and bottom. This rapid cooling contracts the surface of the glass, putting it in a state of compression whilst leaving the inside of the glass in a state of tension.
The glass is much stronger under compression as in order to break it, the compressive force must first be exceeded. So a toughened piece of glass is up to four times stronger than standard, annealed or float glass. The process also has the added benefit of forming the differential stress patterns within the glass. Now when the glass breaks, it will shatter into lots of small, blunt pieces.
So toughened glass is strong and safer to use in the windows and doors that are in vulnerable areas around your home.
How do you tell if a window has toughened glass?
Once the glass has been fitted in a window, then toughened glass and normal float glass are indistinguishable. If you look for a quality mark, then that might give an indication of it the glass is toughened. For example, a British Standard Kitemark in one of the corners of the unit. If no mark is present, there is really no visual way of checking that the glass is toughened without removing the glass unit. If you removed the unit, you could look to see if the edges are smooth. Which as described above is a critical part of the process in order to toughen the glass.
Glass and Glazing Lincolnshire
If you'd like to discuss your requirements for safety glass or get more information on toughened glass, we are more than happy to offer our advice and expertise. For a free, no-obligation quote for a windows, doors or a conservatory in Lincolnshire and Nottinghamshire, you can call us on 01522 512 020 or visit our Lincoln showroom, which is open 7 days a week. For a free online quote from the comfort of your home, click here. Starglaze Home Improvements offers a wide range of uPVC and aluminium windows, doors and conservatories.