Highly resistant to dirt or moisture, you can sleep with the confidence knowing that your Lincolnshire & Nottinghamshire roofline is protected from changeable elements.
We offer fascias, soffits, cladding, guttering and downpipes to help keep your home dry. All our roofline products come with a 10-year guarantee and not require regular maintenance from the homeowner.
Fascias
Our fascias work to protect the timber rafters of your Lincolnshire and Nottinghamshire home from the changeable English weather and a very important feature of your roofline. Poor protection for your roofline leaves it vulnerable to rot caused by water ingress, which can be very costly and time consuming to repair.
Our weather-resistant fascias will guard your roof and walls against daily wear and tear. The durable and high-performing uPVC materials are guaranteed to never rot or warp, giving your roofline long-lasting protection.
When we replace your fascias, we will never 'cap over' the existing ones, which could lead to problems further down the line. Instead, our team will fix the job at hand.
All our fascias are ventilated, ensuring your roof receives effective airflow to prevent condensation from building up in your roof. We supply bird combs as standard, preventing birds and other pests from gaining access to your roof and causing damage.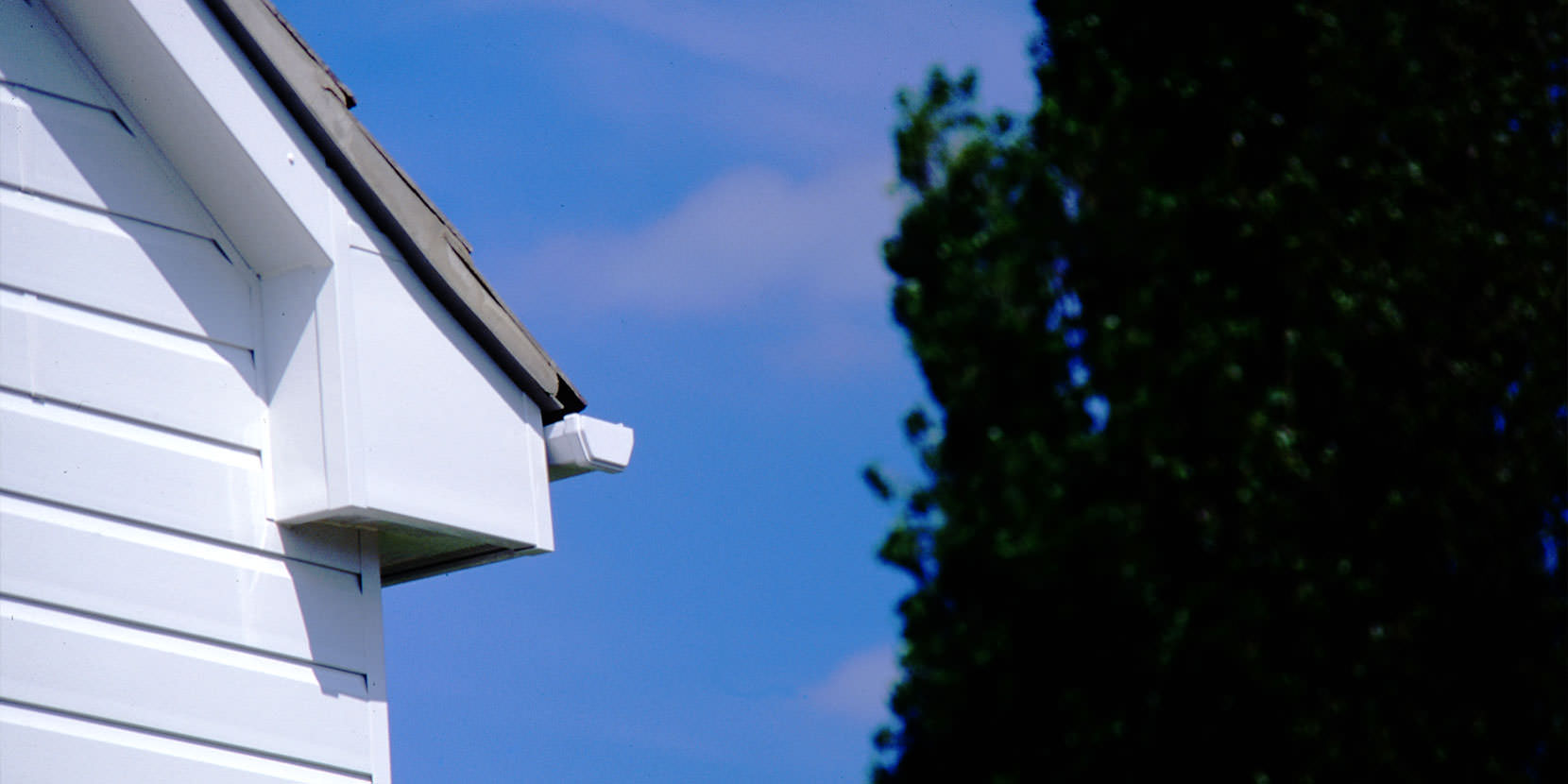 Soffits
A soffit covers the gap between fascias and your side of the house, ensuring your roofline has a clean and tidy finish. Like all our roofline products, our soffits are available in a variety of colours to complement your home and supported by a 10-year guarantee.
Guttering
Damaged or old guttering can be time-consuming to repair and maintain, especially if it's blocked or leaking, which can damage your roofline. Our guttering is made from high-quality uPVC, designed to divert rainwater away from your roofline, protecting your property from water damage.
When installing our guttering, we ensure water flows freely into your downpipe rather than sitting in the gutter and stagnating.
We also provide optional leaf guards for all our gutters. The leaf guards make sure that your guttering is free from debris and leaf build-up, preventing water blockage.

Cladding & Downpipes
Cladding that has started to peel or rot can ruin the overall appearance of your roofline, as well as being expensive and time consuming to repair and maintain. We install an extremely tough, durable and breathable membrane behind our cladding, ensuring your Lincolnshire home is fully protected from the outside elements.
We also install downpipes which are a very important part of your roofline. Without effective downpipes, water could penetrate your roof, causing untold damage and maybe even affecting the foundations of your home. When coupled with our gutters, downpipes are an effective drainage system, draining water superbly.
Roofline Prices
If you are looking to get a Roofline product installed in your Lincolnshire home then get in contact today. You can call us on 01522 512 020 or fill out our online contact form.
For those that already know what Roofline Product they want, then fill out our online quote form. This will provide you with a bespoke estimate of how much our services will cost you.
Our showroom is based at Chieftain Way, Tritton Road, Lincoln. If you want to book an appointment to visit, you can fill out this online form.
[bookly-form]
If you can't make it to our showroom but still want to speak to one of our team face-to-face, you can book in an appointment for them to visit your home through here.