What is Secured by Design?
6th July 2021
What is Secured by Design?
In this article, we explain what Secured by Design is, and what it means for you. Secured by Design (SBD) is a long established and widely respected official police security initiative. Moreover, it provides a recognised standard for all security products that can deter and reduce crime to keep you safe. In addition, it is the only Police Preferred Specification. It works to improve the security of homes, buildings and their immediate surroundings.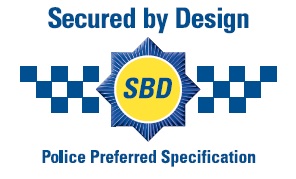 Above is the official logo. Only products and companies that hold SBD accreditation can display this. Therefore, if you see this, you can rest assured that products that carry it, have been subject to rigorous testing. For instance, SBD products are fully tested and certified by an independent, third-party accreditation body. SBD is the only way for companies to obtain police recognition for security related products. In our case, this means our windows and doors.
What does Secured by Design mean for you?
Firstly, Secured by Design products reduce the likelihood of you becoming a victim of crime. By installing SBD recognised products you can increase the safety and security of your home. Above all, SBD products can reduce the chance for you to be a victim of a crime of opportunity. Additionally, because SBD products are strong and robust, they will generally last you longer.
What should you ask for when buying Security Related Products?
The Secured by Design specification is available as an optional extra to our windows and doors. If you have concerns about the safety and security of your home you should ask for SBD recognised products. We have a full range of SBD accredited products available including residential and composite doors, casement windows, vertical sliding sash windows, French doors and bifolding doors. You can view the full list on the Secured by Design website, along with confirming the standards that they hold.
Interested in Secured by Design windows and doors? Start Your Quote Today
If you're interested in improving the safety and security of your Lincoln home, don't hesitate to get in touch. You can call our team on 01522 512 020 or fill out our online contact form and a member of our team will be in touch.
Or, if you know the sizes of the windows and doors that you want, start an online quote. Simply enter a few details and we'll send over a bespoke estimate, with no obligation to book.
Finally, you can pop into our Lincoln Showroom, we're open 7 days a week and would be happy to offer you a wealth of advice and show you all of our Secured by Design products.