uPVC Doors v Composite Doors- Which is the Best?
28th February 2020
It can be quite a daunting experience when choosing a new door for your home. With an array of styles available, it can be hard to choose between uPVC, Composite or Aluminium. Each one provides an array of benefits and features. That's why we've created this article, to help you make a more uniformed decision for your Lincolnshire home.
---
uPVC Doors
uPVC Doors are becoming a more popular choice in homes across Lincolnshire and Nottinghamshire and it's easy to see why. These doors are created with a high-quality uPVC profile that often matches the existing windows in many properties. The multi-chambered design will not only offer an array of thermal benefits but help to secure your home.
Low Maintenance Design
If you're looking for a low maintenance alternative to a timber door, uPVC is ideal. Unlike timber, this door will continue to retain its quality for many years to come. Even after constant exposure to the changeable elements, the profile of the door will not warp, bow, twist, rot or flake.
The colour itself has been imbued within the profile, which will retain its quality. By choosing uPVC, the Lincolnshire homeowner will never have to repaint their door. The only bit of maintenance a uPVC door requires is an occasional wipe with a damp cloth. This will help maintain the good-as-new look.
---

---
Securing Your Lincolnshire Home
The uPVC Door will help to protect your Lincolnshire home from modern burglary techniques. The multi-chambered uPVC profile adds a great level of durability. With the addition of optional panes of double glazing, these doors provide a high level of security across the whole of the frame.
When in the market for a uPVC Door, it is worthwhile buying one that is accredited and built to standard. This means it will have undergone stringent testing, giving you the peace of mind your home is protected. Many of these doors are also fitted with multi-point locking across the frame, protecting your property from modern burglary methods.
Natural Warmth for Your Property
One aspect where uPVC Doors excel where timber previously faltered is providing a good level of natural warmth for your home. Modern doors are often fitted with gaskets and weatherseals, preventing cold draughts from compromising the comfort within your property. This means when you close your door, you'll be keeping out uninvited guests and the elements.
The multi-chambered uPVC profile traps in pockets of warm air, which is then redistributed within your Lincolnshire home. This will offer a more comfortable temperature within your home, even in the cold winter months. Through this, you'll start to rely less on your central heating, leading to lower energy bills.
---
---
Composite Doors
The composite door is an excellent way of adding or maintaining the character of your Lincolnshire home. Although looking like a traditional wooden door, these designs are much with much higher quality materials. Wood is combined with uPVC to offer a high-quality, low-maintenance design that will last. By using various materials, you'll enjoy the benefits of each.
Thermally Efficient Design
Many composite doors are fitted with high performance GRP skins. Alongside the thick profile, this door offers great levels of insulation. This means warm air will be trapped within your home and cold weather kept out.
Through this, your Lincolnshire home will enjoy a comfortable temperature throughout the year, even in the cold winter months. This will lead to you needing less central heating to warm your property. In time, your energy bills will reduce, and the carbon footprint of your property will shrink.
---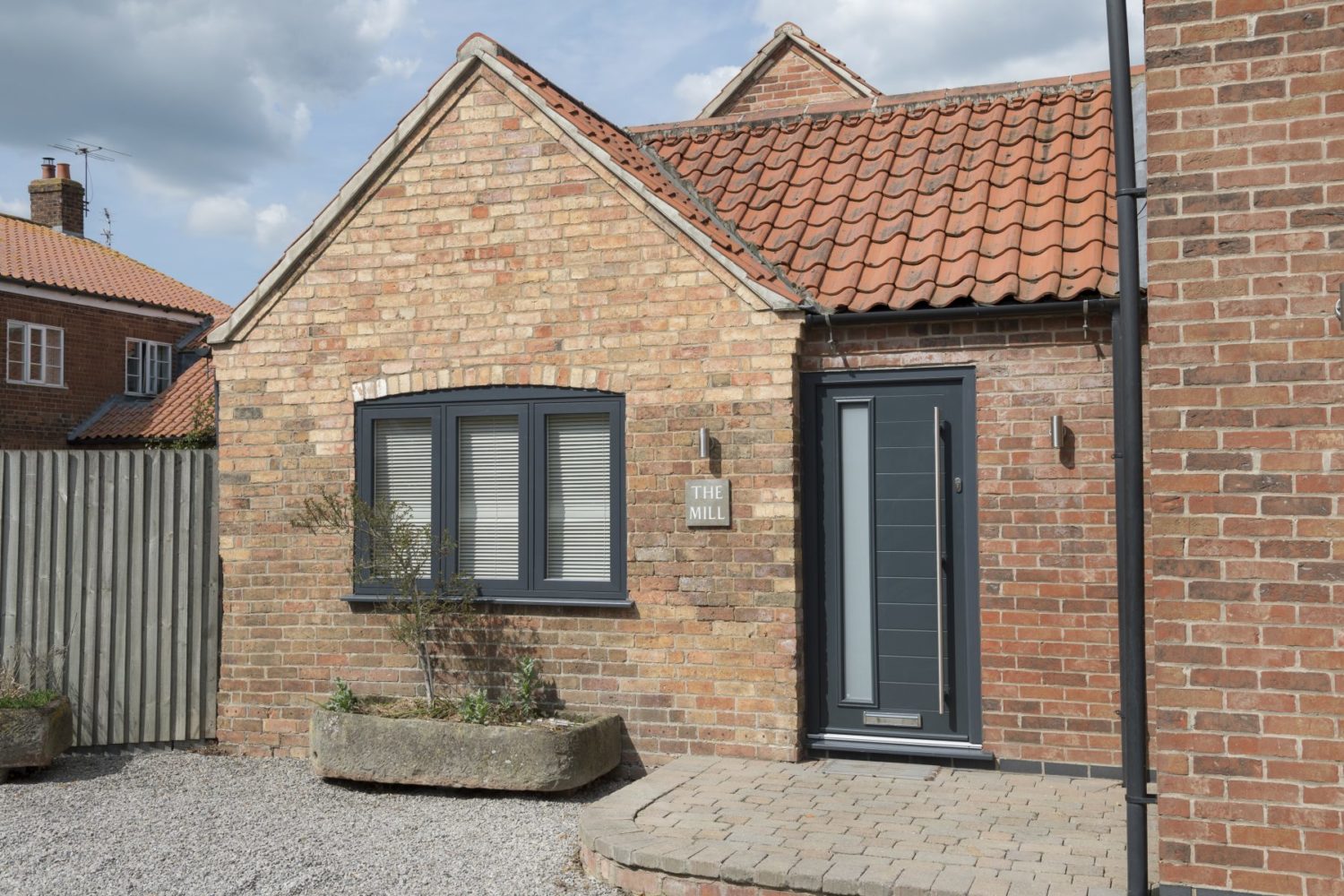 ---
Superior Strength
Through being manufactured with several high quality materials, your Lincolnshire home will benefit from superior natural strength. This rigid profile is impact-proof and will protect your property from modern burglary methods. Many composite doors hold accreditations for their quality, giving you peace of mind that you're receiving the best protection for your Nottinghamshire home.
To ensure that you are getting the very best protection, composite doors are usually fitted with multi-point locking across the door. This eliminates any potential weak points across the frame to give you peace of mind that your home is protected. Many composite door profiles even come with optional security extras, keeping uninvited visitors out of your property.
Operating Your Doors
Our uPVC and composite doors are easy to operate. You should always engage the multi locking points when closing your door. You do this simply by closing the door, grasping the handle and then pulling it upwards. You will feel the shootbolts engage and the door will pull itself tighter, compressing on the seals. This increases the security, makes the door draught proof and prevents it from bowing due to changes in temperature. Never leave a key on the inside of the cylinder if going out, you may not be able to regain entry.
uPVC & Composite Door Prices Lincoln
If you'd like to discuss a new uPVC or Composite Door price for your home, the Starglaze team is more than happy to offer our expert advice. You can call us on 01522 512 020 or fill out our online contact form. For those who want a free, no-obligation door quote from the comfort of their Nottinghamshire or Lincolnshire property, fill out an online quote. Or you can visit our team face-to-face at our Lincoln showroom, which is open 7 days a week.