Team Starglaze Ready For Colour Dash 2022
10th May 2022
Starglaze staff members are gearing up to participate in the annual Colour Dash fun run. The special event takes place this weekend – if you sign up, you can jog, sprint, walk or skip the 5km rainbow route and get splattered in paint.
It's all for a great cause – raising money for St Barnabas Hospice. Now in its sixth year, the Colour Dash is back with a bang, having been cancelled for the past two years due to the pandemic.
2022 sees St Barnabas celebrate its 40th birthday. This year, the charity has set a goal of raising £150,000 for patient care. The money is much-needed because the hospice has lost approximately £2m in donations since the start of the coronavirus pandemic.
Any cash raised will make a massive difference to patients and their families living with terminal illnesses across Lincolnshire. With more money and resources, St Barnabas staff can give more vital palliative care at home to those who need it most. For example, just £14.02 raised allows St Barnabas specialists to give an additional hour of at-home patient care.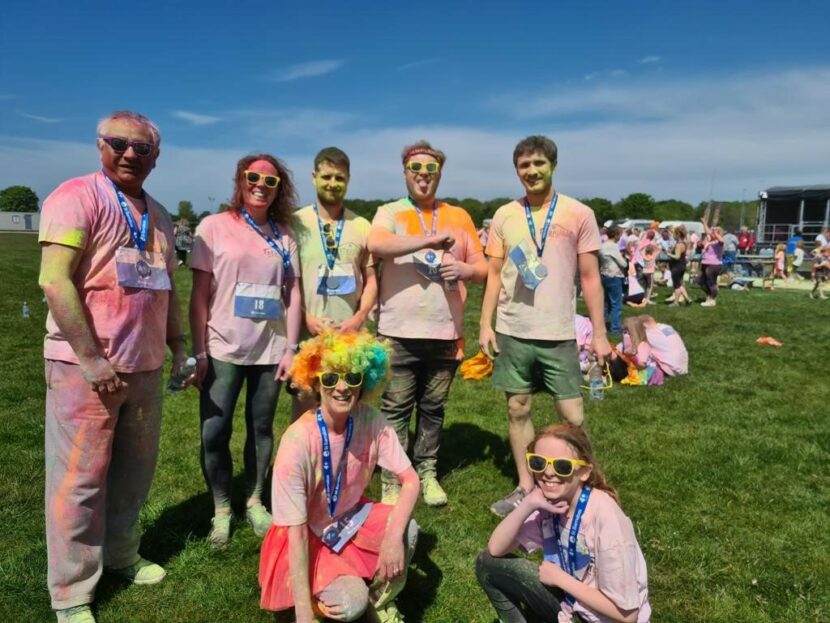 This is a cause that means a lot to the staff at Starglaze. Many of our amazing team members have lost loved ones too early. Hospice care has made a world a difference to them, making such a difficult time that much easier.
Our "Starglaze Starbursts Team" is targeting a fundraising goal of £250 for the Colour Dash – taking place on Saturday (14 May) at Lincolnshire Showground. We are proud to announce that this year's superstars from Starglaze are Wayne Pillai, Lisa Grant, Alex Wilding, Ed Davies, James Burt, Laurel Curtis, Collette Hyatt and her daughter Ava. Much kudos to them all!
The event will possess a carnival party spirit, with music, food, drink and stalls selling all kinds of goods. Thousands are expected to attend, making it the perfect outing for the whole family.
The 5km rainbow fun run is untimed, and participants can complete the course as quickly or as slowly as they please. Runners will set off from 11am in waves of five minute intervals. It's best to sign up with people you plan to run with.
This year's event is a first for a new donation station. Supporters are asked to bring good quality items to drop off as donations for St Barnabas charity shops. Click here to see what goods the hospice can and cannot accept.
Starglaze has set up its own Just Giving page where you can donate to this worthy cause. You can register to take part here. It's highly recommended, and you'll have a memorable day out – all for an important charity that does so much for terminally ill patients.