Double Glazed Windows Nottingham
2nd March 2016
Are you looking for beautiful double glazed windows in the Nottingham area? Here at Starglaze Home Improvements we have a beautiful range for you, perfect for bringing an influx of light and additional space to your Nottingham home.
With a range of styles that bring out authentic values of traditional homes, while beautifully complementing contemporary properties too, our fantastic double glazed windows offer a fantastic statement to your Nottingham home.
Excelling in premium high security, our double glazing is second to none, keeping your family safe inside your Nottingham home.
Security is not worth risking, which is why we always ensure our products are as secure as they possibly can be, to give you complete peace of mind. We care about your security, and we put a lot of time and effort into developing highly secure double glazed windows for you and your family.
Our double glazed windows are internally beaded meaning they can't be removed from the outside. This gives you additional peace of mind that your Nottingham home is kept safe from attempted forced-entry.
Energy Efficient Double Glazed Windows
Passionate about energy-efficiency? Here at Starglaze Windows we care about our carbon footprint and impact on the environment, which is why we make every effort to create and supply the most energy-efficient double glazed windows we possibly can.
We want to keep the precious money you spend on heating your home safe, which is why double glazed windows from Starglaze are created using a multi-chambered uPVC profile, which is specially designed to trap warm air and keep out cold draughts.
Our uPVC is also completely recyclable, so you can be rest assured that any off-cuts are recycled and re-used for new profiles. Waste isn't an option here at Starglaze Windows!
Double Glazed Window Styles
So what kind of double glazed windows do Starglaze Windows offer? We thought you'd never ask!
Whether you're looking for traditional Vertical Sliding Sash Windows, or stunning R9 Windows, we have a beautiful selection for you to choose from, that will perfectly complement a range of Nottingham homes and properties!
Looking for stylish double glazed windows to suit a range of Nottingham homes? Our Casement Windows are just the ticket, bringing beautiful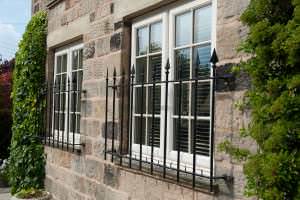 design with high-quality security and practicality to create the perfect double glazed window for you.
Our double glazed Casement Windows are manufactured using the Deceuninck 2800 series to guarantee a high quality design that is incredibly robust and well structured. Our fully sculpted Casement Windows are available in a range of colours, so you can be guaranteed the perfect windows to complement your Nottingham home.
Compliant with Secured by Design and the British Standard Kitemark specifications, our Casement Windows are steel reinforced, giving you peace of mind that your new double glazed windows will keep you and your family safe. We also include key locking handles with a multi-point locking system and additional security claw licks for optimum security.
Our beautiful Tilt and Turn Windows are perfect if you're looking for an innovative design that is still aesthetically pleasing. Perfect for secure ventilation and energy efficiency, our double glazed Tilt and Turn Windows are an ideal choice for all kinds of Nottingham property.
Our Tilt and Turn Windows can be fully opened inwards, making them very easy to clean – perfect if you live in a high-rise Nottingham apartment! Their tilt and turn function makes operation easy, and allows plenty of fresh air into your home.
We are proud of the energy efficiency of our products, making sure they are installed with double weather-seals and thermal reinforcing to make sure they're as weather resistant as they possible can be. Incorporating these factors with a superb multi-chambered uPVC profile makes our double glazed windows some of the most energy-efficient on the market!
Are you looking for traditional double glazed windows with the security benefits of the 21st century? Our Vertical Sliding Sash Windows are the perfect choice for you, replicating the beautiful design of wooden sash windows while incorporating high security and low-maintenance values.
Our beautiful uPVC sash windows keep their authenticity with a deep bottom sash rail, Georgian bars and also the option of decorative horns. With the offer of classically styled hardware in a selection of finishes, you can recreate the traditional double glazed window you love, with extra security and easier functionality!
Using advanced uPVC technology, we've eliminated wear and tear issues associated with traditional wooden windows. Never will you have to paint or varnish your Vertical Sliding Sash Windows, nor will you have to concern yourself with rotting, twisting or warping issues. We ensure your Vertical Sliding Sash Windows will give you peace of mind, all year round!
Looking for high-end double glazed windows? Our R9 Windows are perfect for you, designed to replicate traditional flush sash hardwood windows with additional thermal efficiency and versatility.
Using state of the art machinery, we can ensure a high-quality, seamless welded finish, that perfectly complements its authenticity while creating a sturdy finish with slim sight-lines. They're so robust they've achieved one of the highest classifications for weather resistance, due to their extremely durable design.
Available in a range of colours and finishes, our R9 Windows will blend seamlessly with your property. Suitable for both double and triple glazing, our R9 Windows offer a beautiful finish to a range of Nottingham homes.
Double Glazing Prices
Here at Starglaze Home Improvements we offer incredibly competitive prices considering the consistent high-quality of our products. You can be rest assured that we can find you the best double glazed window for your budget!
Get in touch today for more information, or start an instant online quote now for excellent, no obligation, online double glazing prices for your Nottingham home improvements today!