Lincoln Food Bank Appeal 2023
13th November 2023
Join Starglaze in Spreading Christmas Cheer with the Lincoln Food Bank Appeal
As we approach the holiday season, it is the perfect time to come together and make a positive impact in our local community. Starglaze are thrilled to announce the launch of the 2023 Christmas Appeal for the Lincoln Food Bank. We're calling on all of you, our generous supporters, to help us make this Christmas season brighter for families in need.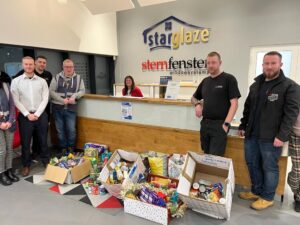 A Journey of Compassion and Giving
The Lincoln Food Bank Christmas Appeal has come a long way since its inception, thanks to the dedicated efforts of individuals who are passionate about making a difference.
Paul Dixon, founder of the Lincoln City Fans Player Scheme, initiated this incredible venture in 2020, collaborating with local businesses in order to support the Lincoln Food Bank.
Their initial goal was a modest £1,000, but their determination and the support of the community led them to achieve far more.
In 2020, they raised an impressive £3,000.
The following year, their efforts yielded £4,600.
Last year, their dedication together with the unwavering support of more than 50 local businesses, including contributions from Starglaze and The Lincolnite, resulted in an astounding donation of £9,350!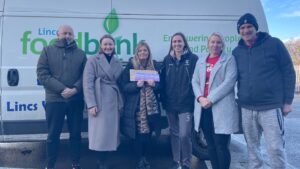 This remarkable journey of compassion and giving is a testament to the power of a community coming together to support those in need.
This year, we want to do even better!
Why It Matters
When we asked Paul Dixon about the motivation behind this selfless effort, he simply said, "To do something good for the people in Lincoln that needed help." This spirit of benevolence and a commitment to helping those less fortunate is at the heart of the Christmas Appeal.
The holiday season can be a challenging time for many families. Your contributions not only provide food to those in need but also a sense of hope and warmth during the festive season.
By supporting the Lincoln Food Bank, you are directly impacting the lives of our neighbours and making our community a better place.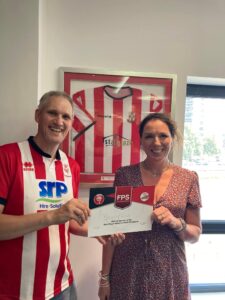 How You Can Help the Lincon Food Bank Appeal
If you are eager to join us in spreading Christmas cheer and making a difference in the lives of those less fortunate, there are several ways that you can contribute:
Donate Food: Any time from now until Tuesday 19th December, you can drop off non-perishable food items at the Starglaze Showroom on Tritton Road. Your contributions will be distributed to the Lincoln Food Bank to help those in need on Wednesday 20th As a thank you for dropping your donation off at our Showroom, we will enter you in our prize drawer to win a Christmas Hamper.
Financial Contributions: You can make a financial contribution to the Lincoln Food Bank directly. Every penny counts, and it all adds up to make a significant impact.
Spread the Word: Even if you can't donate, you can help by sharing this appeal far and wide with friends, family, and colleagues. Your voice can help us reach even more people who want to contribute.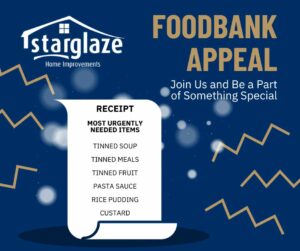 A Brighter Tomorrow
As we approach the 2023 Christmas season, let's come together as a community to bring joy and relief to those who need it the most. The Lincoln Food Bank Christmas Appeal has already achieved remarkable success over the previous years. With your help, we aim to exceed our target and make this holiday season even more special.
Paul has set his sights on an ambitious goal of reaching £10,000 this Christmas, and with your support, we believe that we can achieve this and more!
Working together, we can create a brighter tomorrow for our community.
For more information or to make a food donations, please pop into our Showroom or telephone our Sales Manager, Collette, on 01522 512020.
Join us in the Lincoln Food Bank's 2023 Christmas Appeal, and together, we can make a meaningful difference.