Starglaze COVID-19 Update
7th January 2021
Updated 7th January 2021
Starglaze would like to reassure our customers that we are still open business as usual. Our office will remain staffed but not open to the public. Sales appointments and product demonstrations will be conducted virtually or by appointment within our customer's homes, where our team will continue to adhere to the latest government guidelines and social distancing measures.
During this time, our showroom will remain closed to the public. This will allow us to keep both our staff and our customers safe.
Customers can still call us on 01522 516611 or fill out our online contact form and we will be in touch.
You can also get a quote at any time. Simply enter a few details to receive a bespoke estimate, with no obligation to book.
We thank our customers once again for their continued patience and support. We hope you are all able to stay safe.
Updated 19th November 2020
Over the last few days, the Glass and Glazing Federation (of which Starglaze is a founding member), has been in conversation with the government, in order to clarify guidance in relation to direct sales activities and the operation of retail showrooms during the current lockdown in England.
Following the outcome of these discussions, we have taken the decision to temporarily close our Tritton Road showroom with immediate effect.
All of our other operations – service appointments, surveying, installations etc – remain "business as usual" and we continue to follow stringent COVID-19 safety procedures to keep both our customers and colleagues safe.
Sales appointments and full product demonstrations can be conducted virtually, or by appointment in our customers homes, continuing to adhere to government safe guidance and social distancing.
Updated 2nd October 2020
Following the recent announcement from the Government, we can confirm that we are open for business as usual. If you do need to visit our showroom then please follow the strict guidelines in place, thank you.
Update 18th June 2020
We are pleased to bring our customers a positive update on the operation of our business.
As a business, we have taken every precaution to keep our workforce and customers safe. With this in mind, we have opened our showroom.
Throughout our showroom we have applied social distancing measures. When you arrive, we will ask you to wait in a designated area until a member of our team assists. Those visiting can help themselves to PPE such as gloves and masks which are signposted. Hand sanitizers will also be dotted around the showroom. Our team are continuously wiping down window and door handles after each visit to ensure there is no spread.
Risk assessments have been carried out and are in place to help our installation team work safely in peoples homes. All our fitters are equipped with the PPE they need, and they are working in-line with the latest advice from the government & FENSA's Homeowner's Guide to Installations During Covid-19.
Finally, our team will be running on reduced hours. We are open Monday to Sunday 10am until 4pm.
If you have any questions, please don't hesitate to get in touch. Our sales team can be reached on 01522 512 020. Any other queries please call 01522 516 611.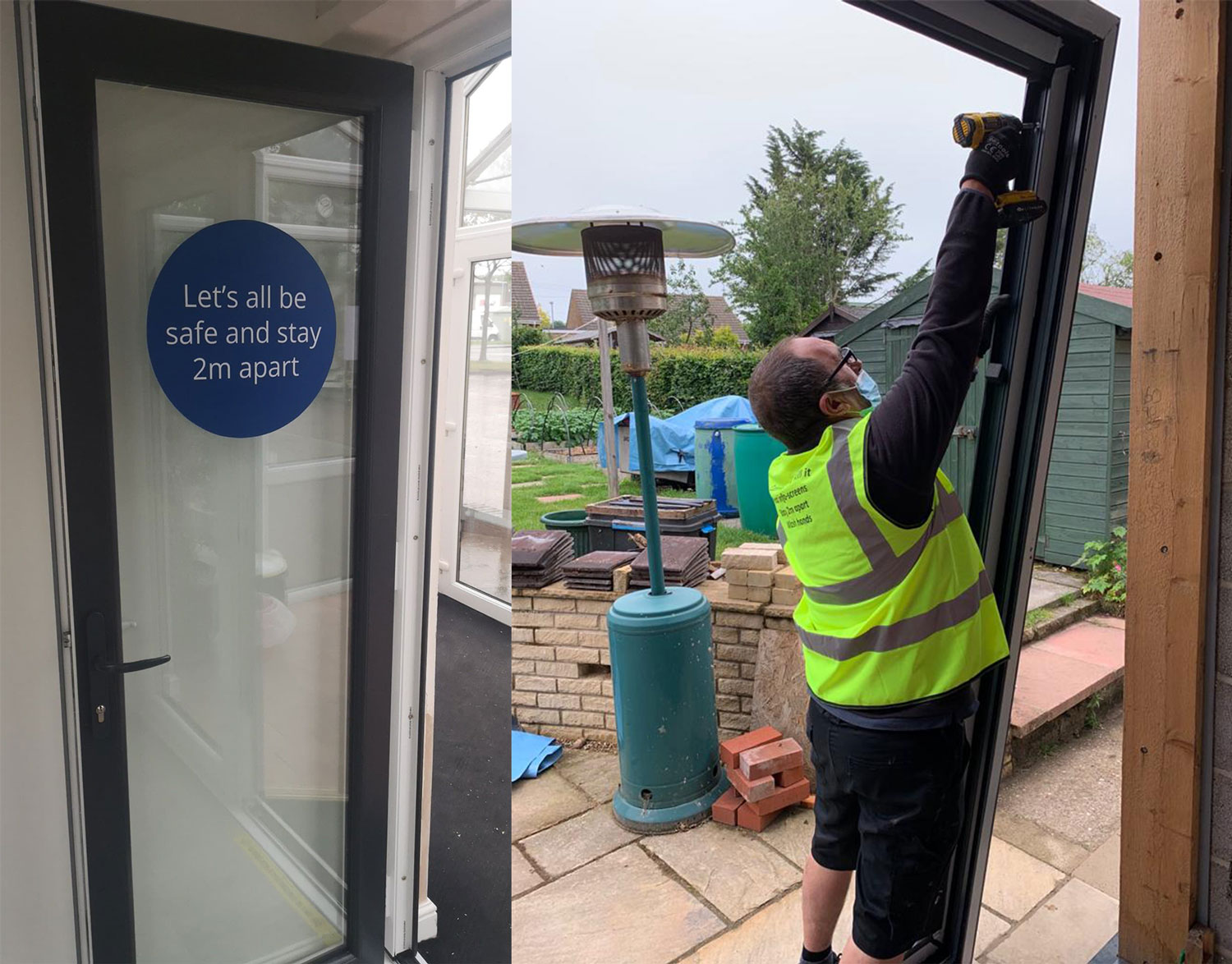 Update 14th May 2020
We have another update following the lastest government briefing earlier this week.
Having worked with the Glass and Glazing Federation and our local Environmental Officer to get clarification on whether work can be carried out within homes, it is now clear that we can continue installing windows.
We took the opportunity to also have the local Environmental Officer check all of our new risk assessments, our site rules and our sales and installations processes and we're over the moon to be able to report that they had no issues with any of our documentation or what we are doing on site to ensure that everyone is protected. Which is reassuring to hear.
We appreciate that the situation is something none of us have ever encountered though, and could be troubling to some people. We would like to assure you though that both our colleagues' and customers' health and safety is paramount to us. We have good processes in place and will continue to follow the latest official guidance and work with everyone to make any necessary improvement and ensure that we all remain safe and follow the rules at all times.
Unfortunately it doesn't look like life will return to "normal" very quickly. Instead we have lots of people working hard to find a new way forward. If you have any concerns or questions about any of our new procedures, please do not hesitate to ask.
In the meantime, we're here to help whatever stage of your home improvement journey you are at, from advice, to a quotation, to installation.
26th April 2020
We hope that you are all keeping safe and well in these testing times.
It has been just over a month now since we closed our factory and showroom, and we have taken the time to monitor the situation as it's developed, read the latest government guidance, and take advice and put in place the stringent health and safety practices to enable us to start to slowly return to work.
Our industry was never told by the government to close, and the latest update from the Health Secretary has confirmed that whilst it is still too early to lift some restrictions, he is comfortable with our sector continuing to work. A month ago we felt that it was the right and sensible thing to pause our business. Since then though, it has become clear that the world is going to have to change and adapt. To find a new way that enables us to return to some sort of normality. Whilst closed we have been working out exactly how we can operate without putting anyone at risk. We've put in place some new measures and practices, both in our factory and on site and in customers homes.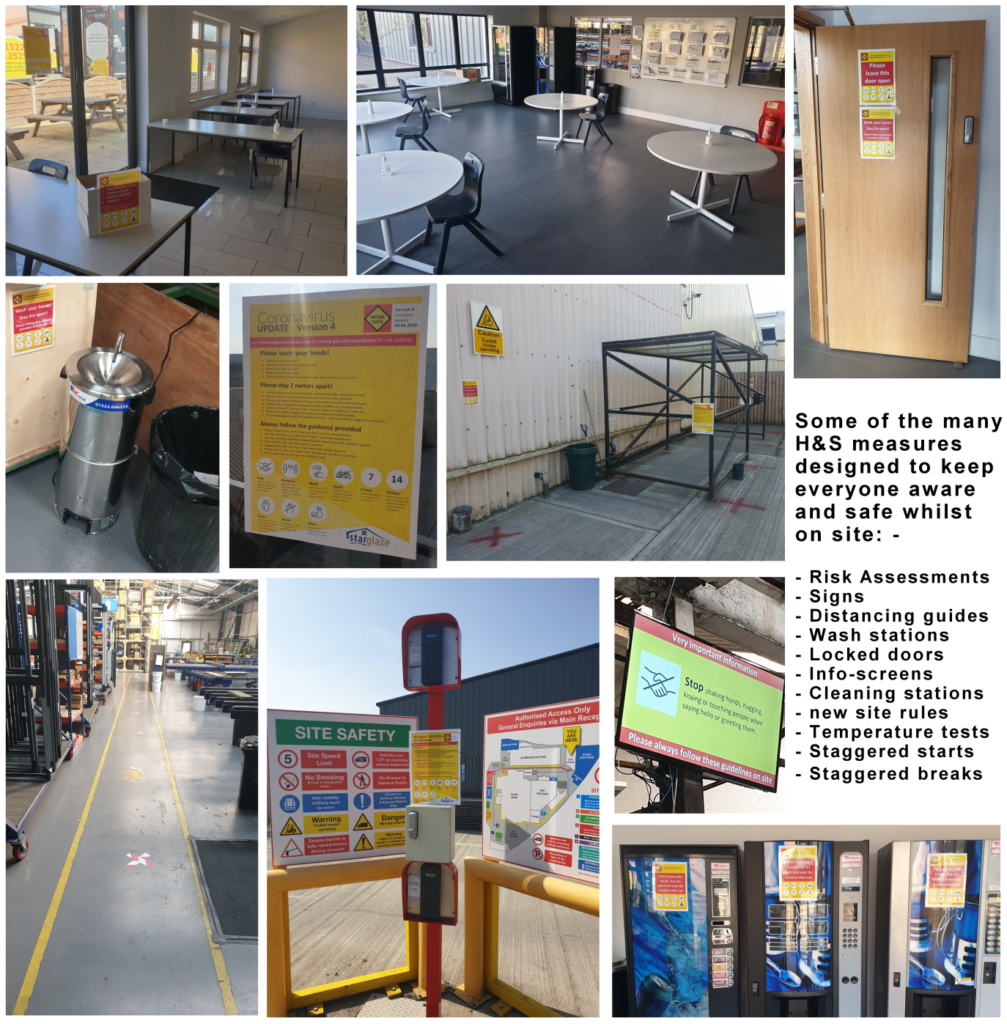 We have read extensively the government advice for social distancing in the workplace for both the manufacturing and construction sectors. We have summarised some of the measures we have put into place below, but if you have any questions for us at all over what we are doing please do not hesitate to contact us.
Initially we are only returning a quarter of our workforce to work on site, to enable us to recommence manufacture whilst maintaining distancing.
All employees are undergoing a new H&S induction on return, to brief them of the new site rules.
We have daily H&S briefings in place along with temperature tests to ensure no one with any symptoms is at work.
We have new signs, info screens and distancing guides in place throughout the site.
Cleaning and wash stations are set up at various points throughout the site.
Breaks and staff starts are also staggered to ensure distancing can be maintained.
We have written detailed safe working practices for our surveyors, installers and even our customers. As we will need you to work with us to keep us all safe.
We have completed a few installations in this last week, and the feedback we have received from our customers so far regarding the safe guarding measures we have in place has been really good. We'll continue to remain open so long as:
Government guidance doesn't change.
We have orders and installations to fulfil.
Our suppliers can continue to restock us, which so far is the case.
And that we can ensure everyone's safety whilst achieving the above!
We're here for you whatever stage you are at. If, like us, you've spent the last few weeks at home, working on and considering projects in your homes and gardens, then we're here to talk about your ideas and offer you advice.
If you want to create space to enjoy.
If you want to open up your home to your garden.
If you want to realise your dream look.
If you want to give your home real kerb appeal.
We're here to chat options with you. If you would like a guideline estimate then you can use our online quotation tool. And if you are ready for a quotation and product demonstrations, then you can book a virtual appointment, where we can show you our products and organise a quotation for you safely and remotely.
We're here for you.
24th March 2020
As we've continued to monitor and react to the latest government guidance regarding COVID-19, we have today taken the difficult decision to temporarily close the business to ensure that our customers and employees stay safe. We appreciate that this is unprecedented, and not the news any of us wanted or even imagined we would be hearing today. However it is clear that it is the right choice, and will enable us to return strong and ready to tackle all the challenges we'll face together when we can return. We will be contacting customers today to postpone all service, installation and sales appointments until we return. We understand that this may be an inconvenience and apologise for this, but think it is now in the best interests of all to do so. We'll be continuing to monitor the situation and will keep you updated as things progress.
Our online quote engine is still available whilst our factory, offices and showroom are closed. So if you are trapped and home and wondering how much new windows would cost, you can get a quotation there and one of our home improvement consultants will give you a follow up call to see if you need any help or advice.
Keep safe, look after each other and we'll see you on the other side!
19th March 2020
Starglaze has been a part of the Lincolnshire landscape since 1974 and over recent years we've seen some extremely tough times. Whether it be the Beast from the East, the flooding, or the near end of capitalism with the banking crisis back in 2008! We are proud to say that we have always been able to deal with these challenges head on and always come out the other side stronger and wiser. This is thanks to the hard work and dedication of our staff – from those out in the field, in the office or in the factories. But also you, our customers who continue to support us and we are genuinely appreciative of every one of you. We have no doubt that the same will be true of the unprecedented challenges and threats that we are faced with today, although as we sit here we're genuinely concerned that this will be by far the most disruptive, most intense and most anxious time that many of us have ever seen.
We'd like to reassure you that we intend to remain open and "business as usual" for as long as we can. To a large extent this will be impacted by our workers as they follow guidance and self isolate as required, but we also suspect that the announcement that schools are closing from Friday we will see more absences next week. We are a family business, and there is no doubt that members of staff will be required to take time out to look after their children.
We also appreciate that as people follow guidance to socially distance themselves, they may not want our representatives, installers and engineers in their homes. We'd like to reassure you that we've taken steps to safeguard our customers and our workforce by implementing the following changes:
We will be reducing the number of home visits required where possible by confirming details via phone or email.
We may ask you questions to establish whether a home visit is safe and inline with guidance from the government.
Disposable gloves and facemasks have been provided to all members of staff and can be worn if requested by our customers or if members of staff feel it necessary.
Hand washing or the use of sanitiser before and after visiting customers.
We are committed to providing you with the best service possible, however there could well come a time when the factors above will start to hamper our efforts, we will clearly endeavour to be as dynamic as we can and communicate with you at all times but the situation is changing by the hour so we do ask for your patience and understanding during these times.
If you've read this far, then thank you! And from all of us at Starglaze, stay safe and we'll get through this together.