The Finest Profile
The Newark homeowner has come to expect the finest quality as standard by choosing Starglaze. With our carports, this remains the same. We use the market-leading Ultraframe profile, which is designed to offer the Nottinghamshire customer years of quality use.
Carports are an excellent way to protect your car from debris such as leaves or bird poo. Manufactured from the highest-quality aluminium, these posts help to support the glazed roof. This helps to protect your vehicle from whatever the changeable Newark weather throws at it.
By getting one of our carports for your home, you'll reduce the gruelling maintenance needed to carry out on cold mornings to your vehicle. Ice build-up will be reduced, meaning you won't have to spend as much time defrosting your vehicle. On rainy days, a carport will prevent you from getting wet when you get out of your car. Not only will you maintain the quality of your car for longer with a carport, but you'll also save the amount of time you have to prepare before journeys.
Quick to Install
Unlike a conventional garage, our installation team can install a carport with relative ease at your Newark property. As all parts are manufactured off-site to fit the exact measurements and requirements of your home, we won't have to spend any time cutting bits to shape on the day of installation. This means you'll be able to carry on with your day-to-day routine and not feel like it's being disrupted by our installers.
---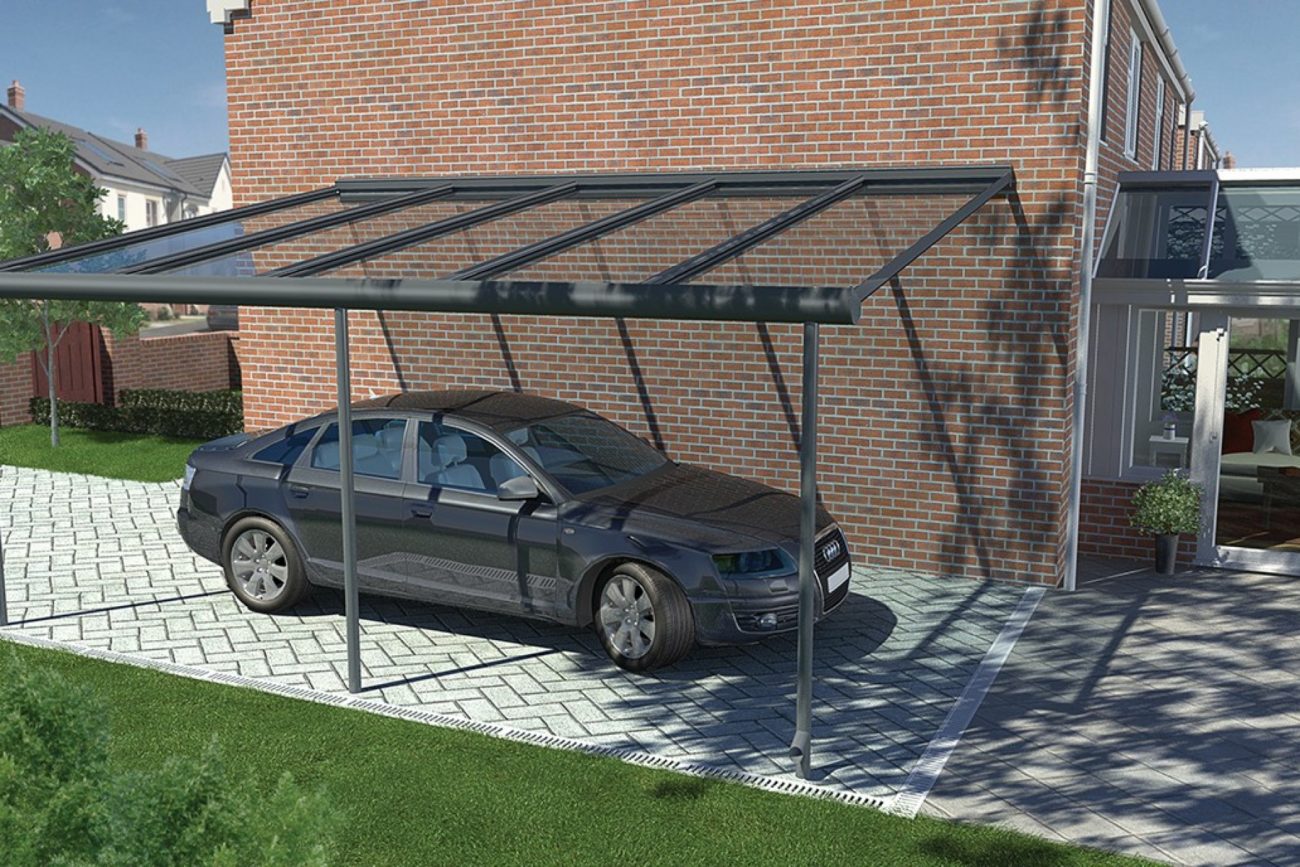 ---
Highly Practical Design
Through adding one of our carports to your Newark home, you can add value to your property and park your car with ease. Unlike traditional garages, you won't have to wait for doors to open or have to step out of your car to open a door. Instead, you'll simply be able to pull in and get out of the comfort of your vehicle to enter your property.
The practical design of our carports sees the aluminium frame not only support the roof but act as a rainwater pipe. When the bad Newark weather hits, rainwater will immediately be carried away from your property, helping to maintain the structural integrity of the build. The post itself projects 500mm below ground level to protect it against strong winds.
When bad weather does occur, the Newark homeowner won't have to fear our carports are putting their vehicle at risk. The build into the ground ensures it cannot fall over. The homeowner can also choose between 6mm and 10mm glass measurements, allowing them to have slim sightlines in their carport.
Complement Your Newark Home
As with any double glazing product, it's important that it complements your Newark home. With our carports, this is still the case. Although it's designed without walls, the guttering, posts and roof will stand out, fitting in with the existing decor and character of your property. The frame itself can be customised in one of two neutral and distinctive colours, grey or white.
The flexible design of our carports allows them to be installed at any Newark property. Available in nine different designs, we can provide the best fit for your home, regardless of how much or how little free space you have available. With an extension such as a carport, you can raise the value of your home.
---
---
Low Maintenance Design
Unlike other extensions, our carports require minimal maintenance and won't give the Newark homeowner any high maintenance headaches. Through using the finest aluminium profile, our carports can continue to offer lasting quality, even after constant exposure to the changeable Nottinghamshire weather. The colour itself is imbued within the profile and will never flake or discolour, even after years in the rain. The aluminium frame will not warp, bow, twist, rot or crack, providing you complete peace of mind your home and your vehicle is protected.
Quality Guaranteed
When you purchase one of our Carports for your Lincolnshire home, you want to know that your product will provide many years of lasting quality. That's why we offer our customers a guarantee of quality. We have a few guarantees in place, so if in the unlikely event anything goes wrong with one of our carports (which is unlikely), our team will endeavour to fix it.
---
---
Carport Prices Newark
If you'd like a carport for your Newark home, then get in touch. You can call us on 01522 512020 or fill out our online contact form.
For those with a colour in mind for our carports, start an online quote. Just enter a few details to receive a bespoke estimate with no obligation to book.
Or if you'd rather discuss our carports range face-to-face, book a visit to our showroom. We are based at Chieftain Way, Tritton Road, Lincoln. If you want to book an appointment to visit, you can fill out this online form. If you can't make it to our showroom but still want to speak to one of our team face-to-face, you can book an appointment for them to visit your home through here.