New Aluminium Factory Lincoln
2nd March 2016
New Aluminium Factory, Offices and Showroom
Here at Starglaze Home Improvements we're excited to announce a new building venture on the horizon – a fantastic aluminium factory will be joining the Starglaze family this year!
The building work is being carried out along the riverside, in front of our current office and factory in Lincoln. When finished it will be an excellent source of new jobs and opportunities for the people of Lincoln and Nottingham.
We are working with the dedicated RG Carter to produce a superb new factory, along with a showroom and offices. With a completion date of November 2016, our new investments will be ready before you know it.
New Factory
Our impressive £3.6 million factory is going to be quite the spectacle, and will allow us the freedom to create exquisite aluminium products including high-quality windows and doors in the near future.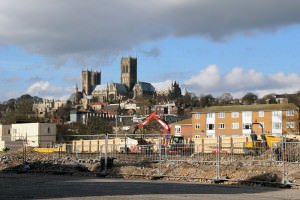 We are including a superb aluminium coating plant, which will allow us to boost the durability of our aluminium products and offer better protection against wear and tear. An energy-efficient way of coating metals, our aluminium coating plant will be cost effective and eco-friendly.
Our new 25,000 ft² factory will secure existing jobs as well as creating new ones. It's a great investment for Starglaze and will create many exciting new job opportunities for people living in Lincoln and surrounding areas.
Although the project is in the early stages of construction, we're very excited to show you the progress so far!
New Showroom
Accompanying our new aluminium factory will be an exciting 2,580ft² aluminium show room. It will be an extraordinary space to view Starglaze' attractive aluminium windows and doors.
You'll have the added convenience of being able to try before you buy; viewing our products properly before you make a choice for your Lincoln or Nottingham home.
We are also excited to be creating new 10,000ft² offices, which will create an updated appearance for Starglaze Home Improvements, while generating many new job opportunities for residents in Lincoln and Nottingham.
Aluminium Double Glazing Products
We currently offer a wide range of aluminium services, including aluminium windows, doors, bi-fold doors and patio doors. An impressive way to reduce heat loss and improve durability benefits, our aluminium windows and doors are a superb investment for your Lincoln or Nottingham home.
Our new factory and showroom will allow us to fully explore and further the aluminium services we already offer, giving improved results at ever-competitive prices. We're always looking into the future, and we can't wait to see how our outstanding aluminium factory will further our efforts to create exceptionally high quality aluminium products at economical prices.
There's no need to wait for our new factory to be completed – get in touch today for an unbelievable aluminium quote. We'll be more than happy to talk you through the design and installation processes.
Ready November 2016
We have an estimated completion date of November 2016, which means Starglaze Home Improvements will be ready to face 2017 with a superb new aluminium factory, beautiful show room and spectacular offices.
We already offer a fantastic range of aluminium products, and are excited by the prospect of having the freedom to invest in our exceptional aluminium services further in years to come.
Get in touch today for more information on our superb new aluminium factory – we hope you're as excited as we are!